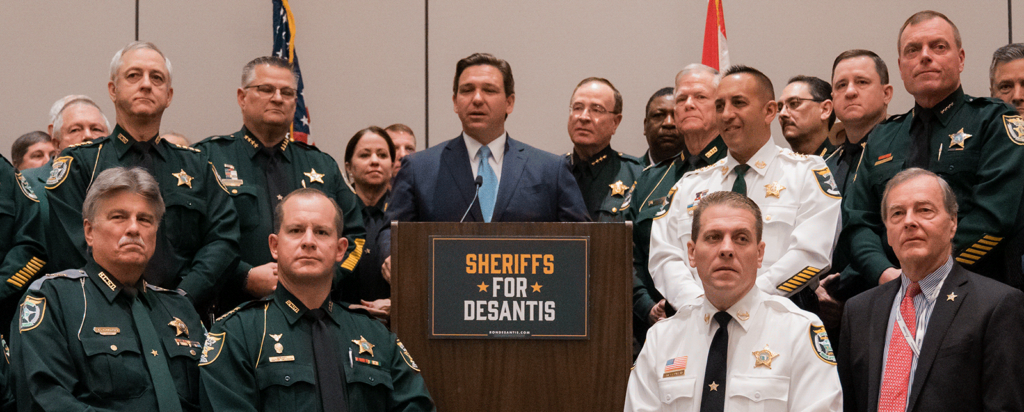 KEEPING OUR COMMUNITIES SAFE
Florida communities are ranked among the safest in the nation, and Governor DeSantis is committed to supporting law enforcement and first responders. He signed the most comprehensive pro-law enforcement legislation in the nation, prohibiting defunding the police. If local governments try to defund law enforcement, the Governor and the Cabinet can override them and reinstate the funding. Florida law prohibits employers, including state law enforcement agencies, from imposing vaccine mandates. These policies are leading law enforcement officers from around the country to relocate to work in the Sunshine State. 
Historic State Law Enforcement Pay Package
Strongest Law Enforcement Recruitment and Retention Package in the Nation
Combating the Border Crisis
Governor DeSantis banned sanctuary cities, and in 2021, he deployed state law enforcement to help secure the southern border, becoming the first state to answer Texas and Arizona's call for assistance. Under Joe Biden, dangerous drugs like fentanyl are freely flowing across the southern border, creating a nationwide drug and opioid crisis. Fentanyl is now the top killer of adults ages 18-45. To combat the crisis, Governor DeSantis increased the sentence for trafficking fentanyl and added methamphetamine to the list of drugs eligible for life in prison for those who sell them and cause the loss of a life. First Lady Casey DeSantis launched a statewide public messaging campaign to inform the public of the dangers of fentanyl and is educating youth on the life-altering effects of drug use through her The Facts. Your Future. initiative. This initiative reinvents how substance abuse is taught in schools from "Just say no to drugs" to "Just say no to drugs, and here's why."
The Governor signed hallmark anti-riot legislation, the Combating Public Disorder Act, which holds those committing crimes during violent protests accountable and supports law enforcement officials who risk their lives to keep our communities safe. In the wake of ongoing rioting across the country, Florida took a zero-tolerance policy toward violent and disorderly protests. Governor DeSantis increased penalties for crimes committed during violent assembly, including battery on law enforcement officers, and created penalties for destroying monuments and historic property.
In 2022, the Governor re-established the Florida State Guard to enhance Florida's emergency response efforts. The Governor secured $10 million in the 2022-2023 budget to support 400 civilian volunteer members of the State Guard.
"While other parts of the country are mistreating, marginalizing, and defunding law enforcement, in Florida we continue to prioritize and appreciate our law enforcement officers." – Governor Ron DeSantis
Governor DeSantis has been endorsed by major first responder groups: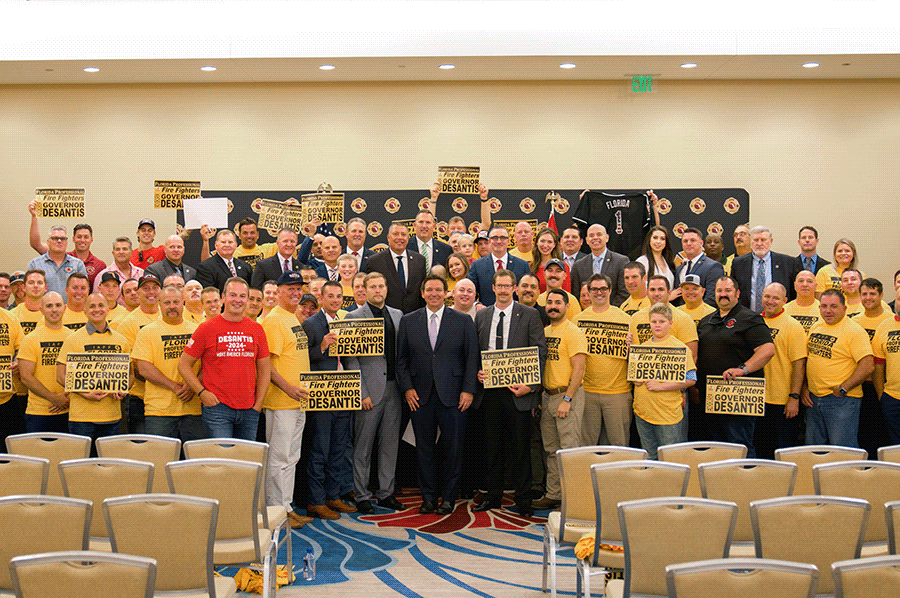 GET A COPY OF THE DESANTIS PLAYBOOK