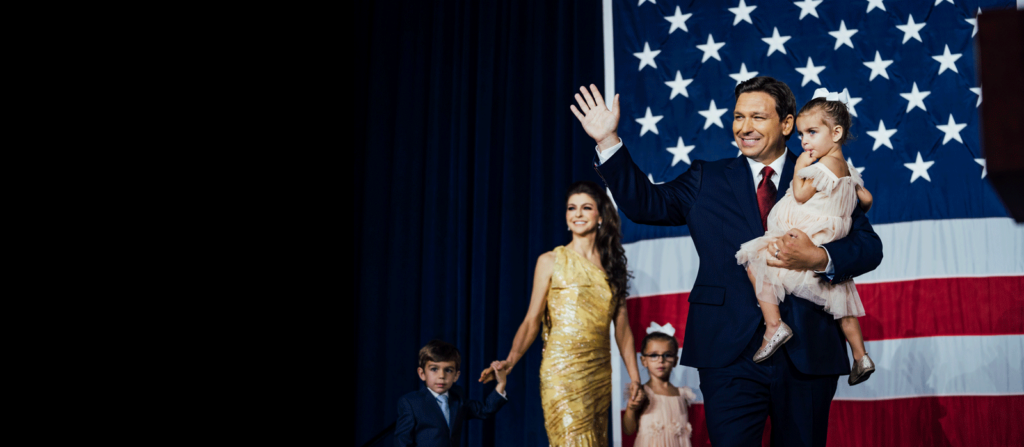 Governor Ron DeSantis proved to the world that freedom is here to stay in the State of Florida with a historic win on November 8, 2022.

After leading Florida with commonsense and conviction throughout his first term,

Governor DeSantis delivered a record-setting victory of nearly 20 points, earning his second term by the largest raw vote margin in state history winning by more than 1.5 million raw votes.

Governor DeSantis' history-making success reflects four years of strong leadership and a policy agenda that generated a sea-change in Florida's partisan voter registration makeup. Governor DeSantis delivered for Floridians across the board. Governor DeSantis' record-setting election night results are proof positive that his Freedom Agenda resonated with Floridians in every corner of the state.

In a world gone mad, Florida was the only safe haven for freedom and sanity.

No matter what he was up against — corporate media, the woke Left, or bureaucratic elites — Governor DeSantis never backed down in standing up for the people he serves. 

When the COVID-19 pandemic sent the world into a frenzy of tyrannical lockdowns and unchecked government overreach, Governor DeSantis stood strong to keep the state of Florida free and open. 

He fought to make sure that businesses could remain open, students could stay in school, and families were able to visit their loved ones during moments that mattered most.

Through his first term, Governor DeSantis worked to lift people up, not tear them down. Floridians overwhelmingly showed up to support Governor DeSantis on Election Day because he first supported them.

Governor DeSantis's Freedom Agenda generated historic support across the state. The governor's extensive policy achievements ––particularly his work to deliver tax relief to working families, protect parents' rights, raise teacher pay, restore the Everglades, and protect individual freedoms –– attracted unprecedented support from nontraditional voting blocs.  

In the closing weeks of the election, the campaign announced it knocked on two million unique doors across the state of Florida and First Lady Casey DeSantis' Mamas for DeSantis initiative successfully mobilized more than 1.1 million Florida mamas.

Governor DeSantis won in every corner of the state –– including once-liberal bastions.

Governor DeSantis found overwhelming support from the Florida Panhandle to South Beach, winning 62 total counties, including Palm Beach and Miami-Dade counties.

One thing was made clear during the 2022 election, thanks to Governor DeSantis' proven leadership, freedom is here to stay in Florida. And he has only begun to fight.
GET A COPY OF THE DESANTIS PLAYBOOK